The annual Israel Machine Vision Conference (IMVC) took place on March 28, 2017 at David InterContinental Tel Aviv.
Yaniv Taigman spoke at a conference on "Cross-Domain Deep Image Generation".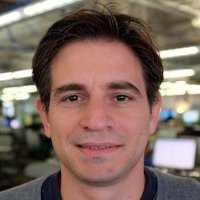 Bio:
Yaniv graduated from Tel-Aviv University with a Master's in Computer Science. While pursuing his PhD research, he co-founded Face.com where he held the position of CTO. When Face.com was acquired by Facebook in 2012, he joined the office in Menlo Park to lead research and engineering projects.
During this time he worked on efficient methods for face representation (DeepFace project) with colleagues, and helped start the Facebook AI Research (FAIR) group. In 2016, he established a satellite FAIR team in Tel-Aviv.
Legal Disclaimer:
You understand that when using the Site you may be exposed to content from a variety of sources, and that SagivTech is not responsible for the accuracy, usefulness, safety or intellectual property rights of, or relating to, such content and that such content does not express SagivTech's opinion or endorsement of any subject matter and should not be relied upon as such. SagivTech and its affiliates accept no responsibility for any consequences whatsoever arising from use of such content. You acknowledge that any use of the content is at your own risk.