The first Autonomous Tech Conference took place on Oct 21 – Nov 1, 2018 at Tel Aviv Convention Center.
Lior Cohen spoke at a conference on "Ride Vision ARAS – 360° Threat Analysis using cameras".
Abstract:
In the word where all major cities are congested and the traffic hell grows each year, the two-wheeler vehicles (PTWs) can be the driver for gaining back insanity.
Air pollution, time saving and money savings are sufficient triggers to promote the two-wheelers. In many metropolitan cities the use of the PTWs has recently grew at a double-digit percentages.
A national organization Ride To Work Inc., encourages PTWs commuting and draws lots of participants and awareness to the benefits of motorbikes.
However, many people perceive the PTWs as dangerous vehicles !!!
Advanced driver-assistance systems (ADAS) are designed to increase car safety and help the driver in the driving process. While ADASs are now very common in cars, in the PTWs space there are almost no solutions that relates to rider assistance systems.
Ride Vision develops Advanced Rider-Assistance Systems (ARAS) that provide features like collision avoidance, blind spot warnings, lean angle warnings, adaptive cruise control, automatic signaling and more… The system is based on two wide-angle cameras and on the algorithms that fuse these sensors to understand the road state and alert the riders on the particular PTWs threats.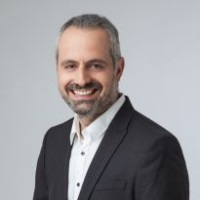 Bio:
Lior is an avid motorcyclist that harnesses the power of pragmatic thinking, artificial intelligence and computer vision to make motorcycles safer. Before Ride Vision, Lior was a VP R&D at PicScout where he lead a team of visual algorithm researches and engineers. Prior to that Lior lead mobile and homeland security development teams dealing with complex algorithmic problems.
Lior holds a M.Sc. in information system engineering from the Ben-Gurion University.
Legal Disclaimer:
You understand that when using the Site you may be exposed to content from a variety of sources, and that SagivTech is not responsible for the accuracy, usefulness, safety or intellectual property rights of, or relating to, such content and that such content does not express SagivTech's opinion or endorsement of any subject matter and should not be relied upon as such. SagivTech and its affiliates accept no responsibility for any consequences whatsoever arising from use of such content. You acknowledge that any use of the content is at your own risk.