The annual Israel Machine Vision Conference (IMVC) took place on March 6, 2018 at David InterContinental Tel Aviv.
Prof. Michael Elad spoke at a conference on "Sparse Modeling in Image Processing and Deep Learning".
Abstract:
Sparse approximation is a well-established theory, with a profound impact on the fields of signal and image processing. In this talk we start by presenting this model, and then turn to describe two special cases of it – the convolutional sparse coding (CSC) and its multi-layered version (ML-CSC). Amazingly, as we will carefully show, ML-CSC provides a solid theoretical foundation to … deep-learning. This talk is meant for newcomers to these fields – no prior knowledge on sparse approximation is assumed.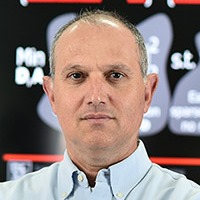 Bio:
Michael Elad holds a B.Sc. (1986), M.Sc. (1988) and D.Sc. (1997) in Electrical Engineering from the Technion. After several years in industrial research, Michael served as a research-associate at Stanford University during 2001-2003. Since 2003 he is a Computer-Science Professor at the Technion. Michael works in the fields of signal and image processing, specializing in sparse representations.
He has authored hundreds of technical publications in leading venues, many of which have led to exceptional impact. Since January 2016, Prof. Elad is serving as the Editor-in-Chief for SIIMS.
Legal Disclaimer:
You understand that when using the Site you may be exposed to content from a variety of sources, and that SagivTech is not responsible for the accuracy, usefulness, safety or intellectual property rights of, or relating to, such content and that such content does not express SagivTech's opinion or endorsement of any subject matter and should not be relied upon as such. SagivTech and its affiliates accept no responsibility for any consequences whatsoever arising from use of such content. You acknowledge that any use of the content is at your own risk.