The annual Israel Machine Vision Conference (IMVC) took place on March 6, 2018 at David InterContinental Tel Aviv.
Prof. Gabby Sarusi spoke at a conference on "The Use of Augmented Reality, Machine Vision and Deep Learning Tools to Enhance Technical Visual Support Services".
Abstract:
Technical support service over the phone can be a frustration and costly process for the client and for the technical support agent.
At TechSee Augmented Vision Ltd. we have developed a platform that adds visual aids using video stream over the smartphone accompanied by augmentation of symbols and annotations superimposed on the video stream in a real time. In addition, we are using machine vision and deep learning algorithms empowered by transfer learning for devices classifications and segmentation. This enable the platform to support the agents and the clients by proposing solutions based on lesson learned in previous technical support sessions.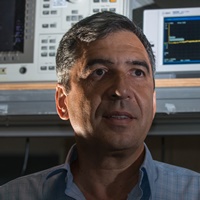 Bio:
Gabby Sarusi is a faculty at the electro-optic engineering department at Ben-Gurion University. His main areas of researches are quantum structure photonic devices, band-gap engineering, and augmented reality. He is co-founder of several startup companies: Imagine-AR, Ride-on and TechSee.  Prior to his academic and entrepreneurship carrier, he worked at Elbit-System–Electrooptic (ElOp): V.P., Head of Space and Air Imagery Intelligence Division,
Chief Scientist and Director of Thermal Imaging System.
He holds double B.Sc. with honor, M.Sc. with honor and Ph.D. from Tel Aviv University in Physical-Electronics. He did his postdoc. at AT&T Bell Labs. and NASA-JPL.
Legal Disclaimer:
You understand that when using the Site you may be exposed to content from a variety of sources, and that SagivTech is not responsible for the accuracy, usefulness, safety or intellectual property rights of, or relating to, such content and that such content does not express SagivTech's opinion or endorsement of any subject matter and should not be relied upon as such. SagivTech and its affiliates accept no responsibility for any consequences whatsoever arising from use of such content. You acknowledge that any use of the content is at your own risk.